ahh, no I am pretty lame huh?
Lately I have been all about changing my image to reflect me. Ya know, the real me!
I have been reading posts to help get a sense of my self and style -false self image -
Already Pretty
, middle age -
Middle Ageless
, wardrobe therapy -
The Sky is Bigger There
, choosing your colors
Inside Out Style
, formula for easy dressing
Of a Certian Age
and define your personnal style
Dummies.com
(I know kinda silly, but not to bad of a short read). There are books and books and books on these subjects, but I knew my blogger friends would have wonderful posts to help me out. If you dig a little on the blogs you will find even more wonderful advice. I am a little late but I am getting started on my wardrobe therapy
Questionnaire and Research
tonight. Got any good reading on creating personnal style?
A fun little quiz 'What Style of Clothes Are You?'
I am....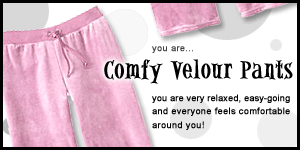 find your inner clothing style @ quizmeme.com